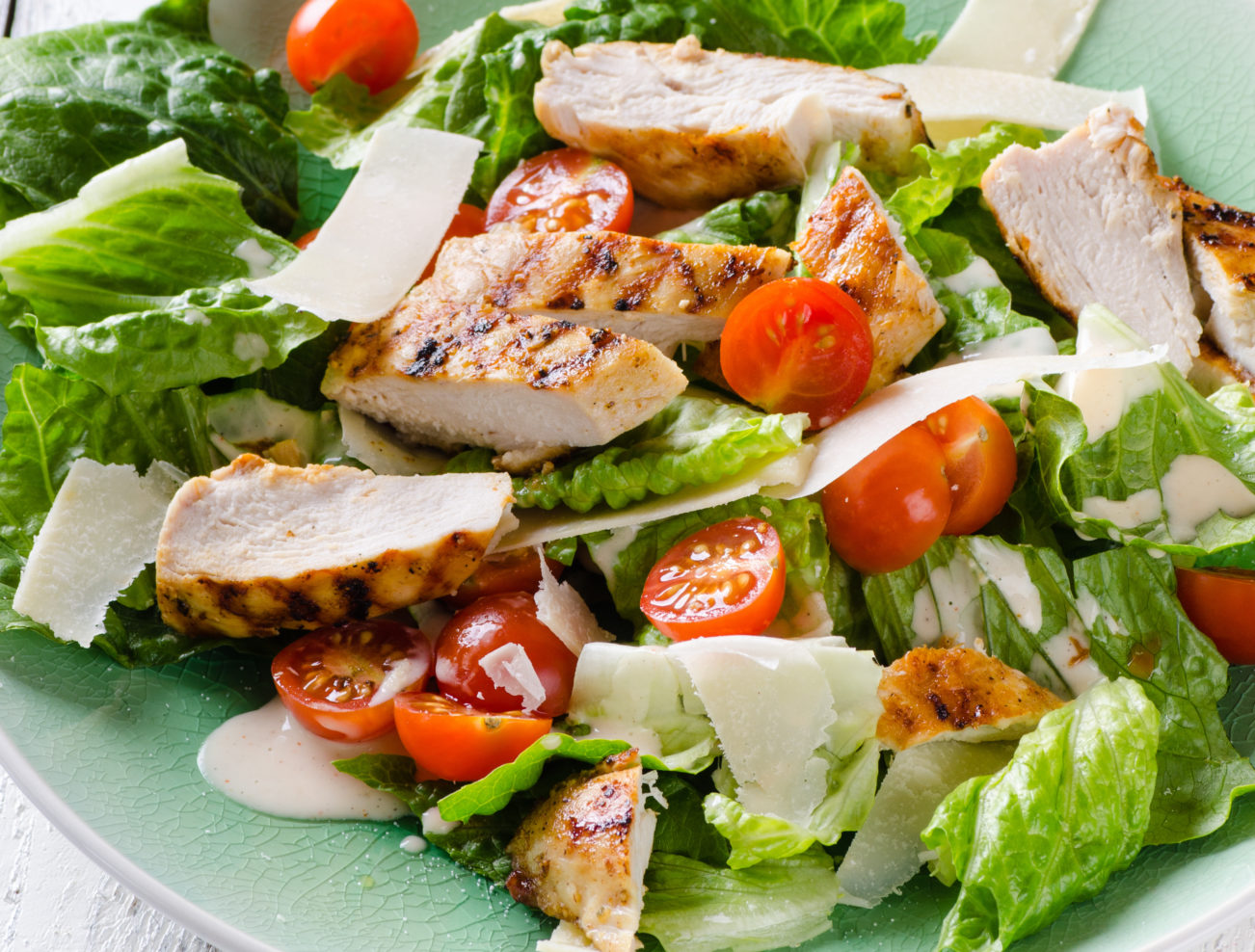 Source :- nutritiouslife . com
Adding chicken to your weight loss diet may help you build lean muscle mass, which is vital for keeping your metabolism strong and healthy. Chicken is packed with lean protein that helps you keep satiated for a longer time because protein helps the body burn fat more effectively. Try to have local farm-raised chicken or organically raised chicken. Grill, stir-fry or add them in stews for maximum benefits. Avoid fried chicken or the chili chicken from restaurants, it is laden with toxic calories from hydrogenated fats that are present in the oils used to prepare them. You can have homemade chicken tikka, tandoori or roasted chicken, chicken soups or chicken salads for best benefits. Here I am giving you some chicken recipes for diet that gonna help you to lose weight fast. See below the recipes.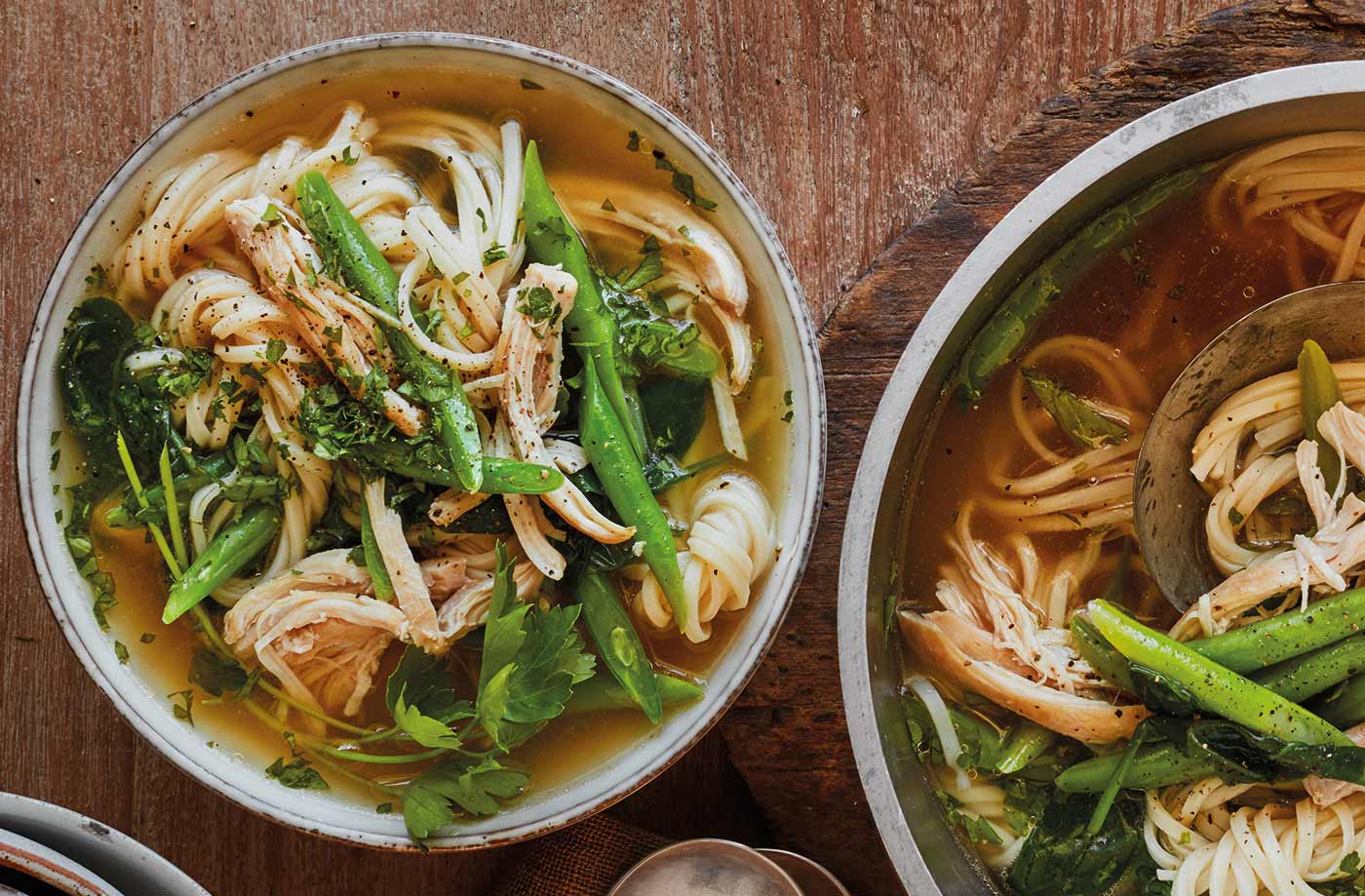 Source :- realfood.tesco . com
Chicken Noodle Soup:
You'll swear off the canned stuff when you try this Chicken Noodle Soup recipe. It's low in calories and in sodium while rich in protein and vegetables perfect to feed a cold or to satisfy a comfort-food craving. This is one of the best chicken recipes for diet.
Ingredients:
4 1/2

cups low-sodium chicken broth


1

cup onion chopped


1

cup

chopped

carrot


1

cup

chopped

celery


1

teaspoon dried basil


1

teaspoon dried oregano


1/4

teaspoon black pepper


1

bay leaf


1 1/2

cups dried egg noodles


2

cups

cooked chicken, chopped
Method:
Combine 4-1/2 cups low-sodium chicken broth, 1 cup each chopped onion, carrot and celery, 1 tsp. each dried basil and oregano, 1/4 tsp black pepper and 1 bay leaf; bring to boil.

Cover and simmer 5 minutes.

Add 1-1/2 cups dried egg noodles. Cover and simmer 8 minutes; discard bay leaf.

Add 2 cups chopped cooked chicken breast. Makes 4 servings.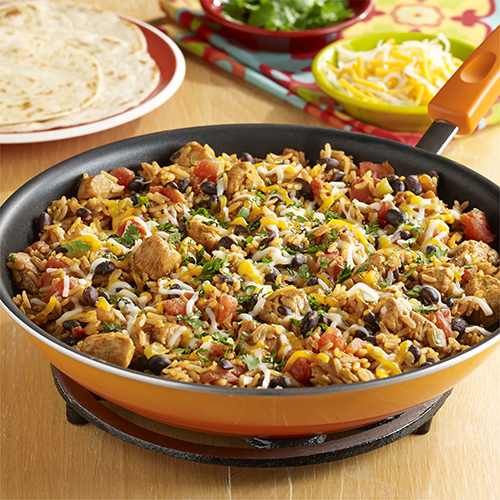 Source :- readyseteat . com
Chicken and Rice Skillet Stir-Fry:
This is one of the best chicken recipes for diet. This Asian-inspired chicken dish of ours is perfect to whip up on any and every busy weeknight. We've taken away all of the unhealthy greases that usually fills up your typical Asian food dish, and we've filled this dish with vegetables instead. This recipe calls for chicken, veggies, and brown rice–which means that it's the perfect weight loss dinner!
Ingredients:
1 pound boneless, skinless chicken breasts or thighs, chopped into 1/2-inch pieces
1 1/2 cups uncooked long-grain brown rice
1 1/2 cups mung bean sprouts
1 1/2 cups shredded white cabbage
1/2 cup shredded or finely chopped carrots
1/2 cup chopped onions
1 clove garlic, minced
2 tablespoons low-sodium (lite) soy sauce
1 tablespoon extra virgin olive oil, divided
1/2 tablespoon toasted sesame oil
1 sliced hot red or green chili pepper of choice, stemmed, seeded, and finely chopped or thinly sliced, optional
Method:
Note that if you already have 3 cups cooked rice/leftover rice, that can be used instead of cooking the rice.
Add 1 1/2 cups rice plus 2 cups water to a pot and bring just to a boil over high heat. Reduce to lowest setting and cover, allowing to cook until all water is absorbed, for about 25 minutes.
Meanwhile, add 1/2 tablespoon of the olive oil to a large skillet over medium-high heat and add in the chicken pieces. Cook, stirring occasionally, until golden on all sides and cooked through, for about 6 to 8 minutes. Remove the chicken from the pan and set aside.
Add the remaining olive oil, onions, and carrots to the pan over medium heat and cook for about 5 minutes until onions and carrots have softened. Add garlic and cook for an additional 30 seconds. Stir in cooked rice, cabbage, soy sauce, chili pepper (if using), and sesame oil and cook for an additional 3 minutes. Stir constantly. Add chicken and bean sprouts and cook for additional 2-3 minutes until hot and serve.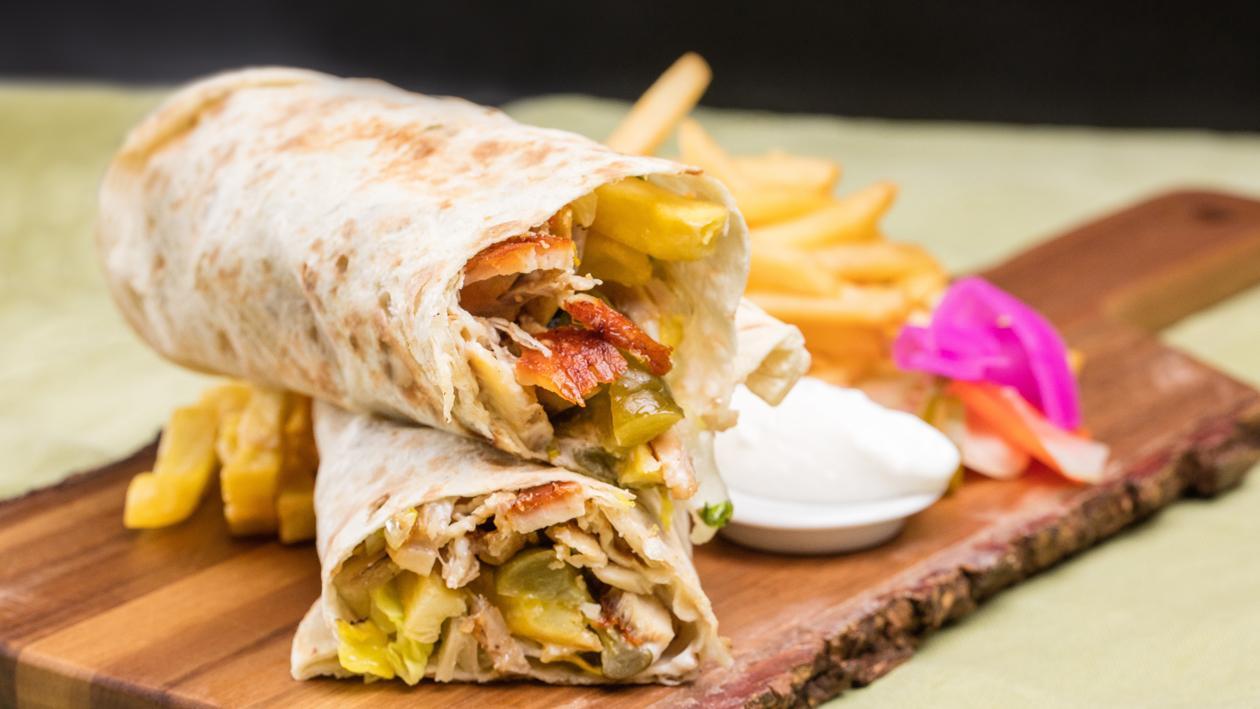 Source :- sifu.unileversolutions . com
Low-Fat Chicken Shawarma Recipe:
Chicken Shawarma is one of the best chicken recipes for diet. This recipe is for all the shawarma lovers out there. For this recipe, make use of pita bread to make low-fat chicken shawarma with lettuce. Stuffed with pan-fried chicken, tomatoes, onions, chilies and a yogurt-based sauce; this chicken recipe is a perfect side dish for your weight loss menu.
Ingredients:
For Shawarma:
600 gm thinly sliced chicken
1 cup yogurt
1 1/2 tbsp garlic paste
1/2 tsp cayenne pepper
1/2 tsp curry powder
1/2 tsp cinnamon powder
Salt as per taste
Pepper powder, a pinch
1/2 tsp paprika
Juice of 2 lemons
1 tsp oil of your choice
For Sauce:
1/2 cup yogurt
1 tsp lemon juice
1 tsp tahini
Salt as per taste
1 tsp garlic paste
Method:
Mix all the sauce ingredients and serve with chicken and pita bread/lettuce.
Marinate chicken slices in all the ingredients.
Keep in marinate for at least 3.5 to 4 hours.
Now, take a pan and fry chicken till dry. Take pita bread and spread some sauce over it. Place tomato, sliced onion, green chilies, parsley, and chicken over the bread and make a firm roll.
Recommended Articles :-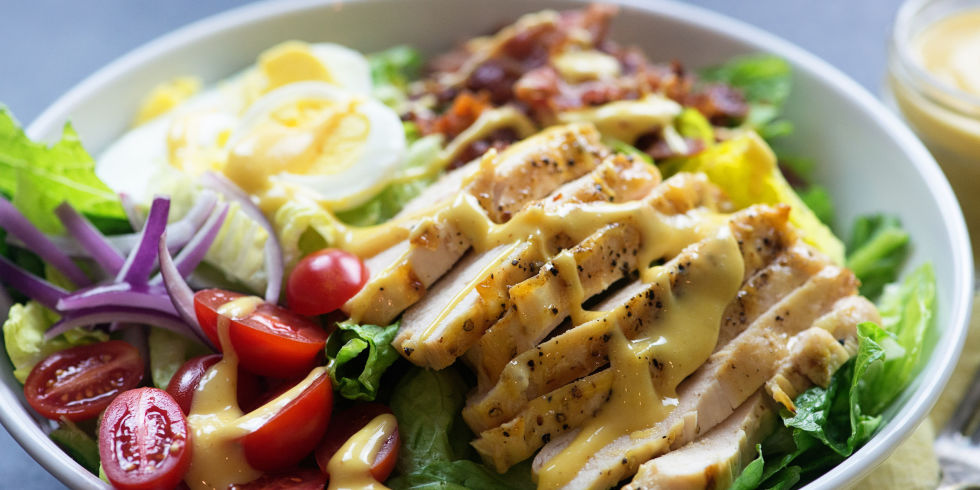 Source :- scibosnian . com
Chicken Salad:
Chicken salad is one of the best chicken recipes for diet. The salad combines the benefits of chicken as well several other vegetables. Salads are a great choice because they do not load your body with unnecessary carbs and fats. You can use as many vegetables as you like and make this salad all the more filling. India Times has presented this delicious Coconut Coated Chicken Salad. The recipe says to use extra virgin coconut oil but you can replace it with extra virgin Olive Oil too if you do not refer a strong coconut flavor. It is easy to make and requires basic ingredients that are available in a regular kitchen.
Ingredients:
1 large skinless chicken breast

1½ tablespoons extra virgin olive oil

Salt and freshly ground black pepper

1 large garlic clove, finely grated

1 teaspoon roast and ground cumin seeds

good fistful of chopped coriander (cilantro), finely chopped

1½ tablespoons lemon juice, or to taste

½ medium/large tomato

½ ripe avocado

¼ red onion, finely chopped or thinly sliced

A handful of chopped lettuce, such as Little Gem

1½ teaspoon chaat masala

¼ small Indian green finger chili, deseeded and thinly sliced

1½ tablespoons salted peanuts, lightly chopped
Method:
Marinate the chicken breast with 1 teaspoon of the olive oil, seasoning and the garlic. Leave for 30 minutes if possible.

Heat a griddle pan or frying pan, add the chicken and cook for 5–6 minutes on each side or until done. I like to cover the pan (with another pan) 2 minutes in, to keep the chicken moist.

Meanwhile, mix together the remaining olive oil, seasoning, roast cumin and a little each of the coriander and lemon juice.

Chop the tomato and avocado into even 1–2 (½-¾in) cubes. Place in a bowl and add the onion, lettuce, chaat masala, chili and most of the dressing. Toss well to mix and season to taste. It should be tangy, spicy and well-seasoned. Add more lemon juice if necessary.

When the chicken is done, you can slice it thinly and place on top of the salad, drizzled with the remaining dressing and remaining coriander, or chop into small bites and mix with the salad, dressing and remaining coriander. I also like the flavors to marinate for a bit before serving, so makeup 10–15 minutes before serving if possible.

Scatter over the peanuts and serve.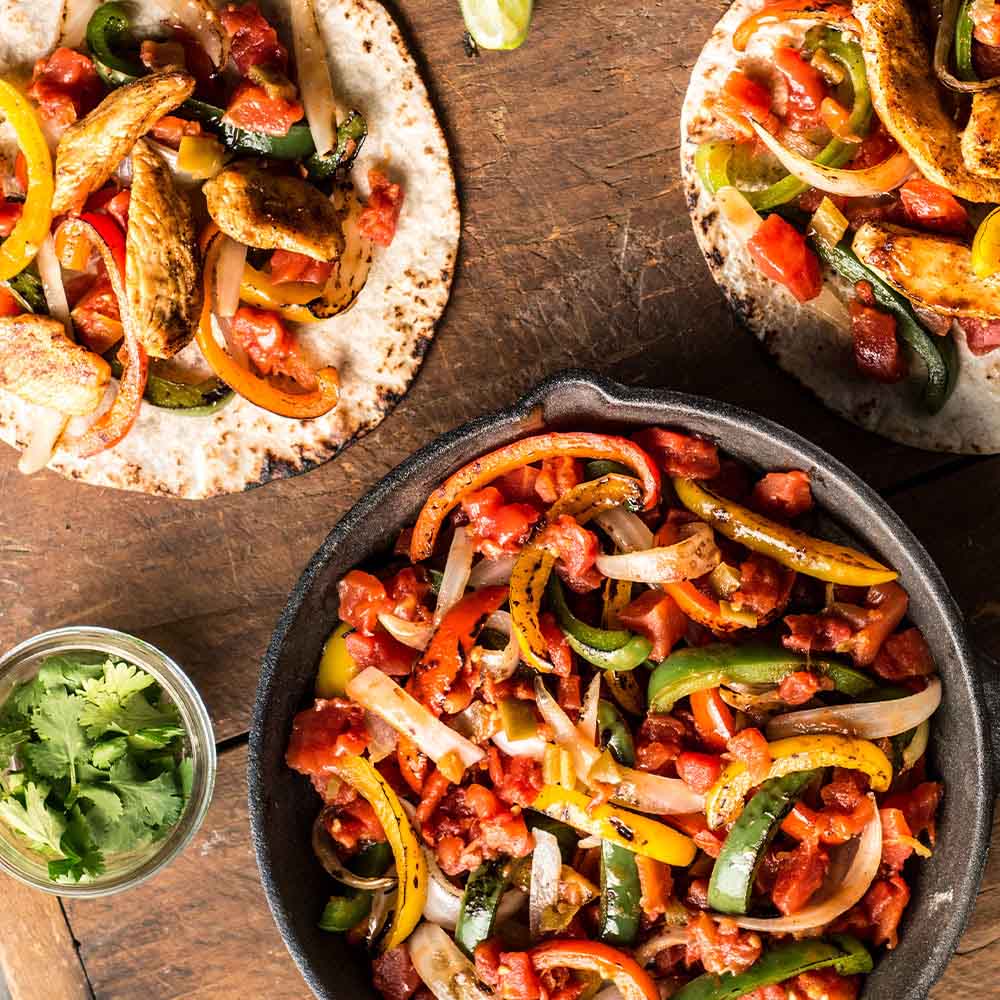 Source :- readyseteat . com
Chicken Fajitas:
A marinade of dark Mexican beer (like Negra Modelo), soy sauce, and fresh lime juice gives these Chicken Fajitas a fresh kick of flavor. Dark Mexican beer is especially great in this marinade because it turns sweet and molasses-y when cooked. Chicken doesn't need a long marinade to soak up the flavors, so let the strips of chicken sit for an hour while you prepare the rest of your meal. This is one of the chicken recipes for diet
Ingredients:
3/4 cup dark Mexican beer
2 tablespoons lower-sodium soy sauce
2 tablespoons fresh lime juice
1 tablespoon canola oil
1 tablespoon Worcestershire sauce
3 garlic cloves, crushed
1 pound skinless, boneless chicken breast halves, cut across grain into 1/2-inch-thick strips
1 cup sliced onion
1 orange bell pepper, seeded and sliced
1 yellow bell pepper, seeded and sliced
Cooking spray
1/4 teaspoon salt
1/4 teaspoon freshly ground black pepper
8 (6-inch) flour tortillas
1 jalapeño pepper, thinly sliced
Salsa (optional)
Reduced-fat sour cream (optional)
Fresh cilantro leaves (optional)
Method:
Combine first 6 ingredients, stirring well. Place chicken in a zip-top plastic bag. Add 3/4 cup beer mixture to bag; seal. Reserve remaining beer mixture.
Marinate in refrigerator for 1 hour, turning occasionally. Combine onion, bell peppers, and remaining beer mixture in a zip-top plastic bag, and seal. Marinate for 1 hour at room temperature.
Heat a grill pan over medium-high heat. Coat pan with cooking spray. Remove chicken from bag; discard marinade. Sprinkle chicken evenly with salt and black pepper.
Add chicken to pan. cook for 2 minutes on each side or until done. Remove chicken from pan, keep warm. Remove onion and bell peppers from bag, and discard marinade. Add onion mixture to pan; cook for 6 minutes or until tender, turning after 3 minutes. Toast tortillas in pan, if desired.
Place 2 tortillas on each of 4 plates, and divide chicken mixture evenly among tortillas. Divide onion mixture evenly among servings. Garnish with jalapeño slices. Serve with salsa, sour cream, and cilantro, if desired.