Source:- Pinterest
India possesses one of the best varieties of vegetarian foods in this world. This should not be shocking because, on the basis of some estimates, almost 40% of Indian citizens are vegetarian. You can also find various types of amazing best vegetarian dishes Indian in the street foods too. The best vegetarian dishes Indian are filled with several Indian spices and thus it tastes great when paired with hot parathas, Steamed rice, chapattis, or naan.
Here I have provided a list of best vegetarian dishes Indian. This list does not only consist of best vegetarian dishes Indian that are favorites among the Indians, but these best vegetarian dishes Indian are also famous among people around the world.
Best Vegetarian Dishes Indian
Check out some of the best vegetarian dishes Indian in this article below:
Source:- Pinterest
Moong Dal Ka Khichdi:
Moong Dal (Moong Lentils) has not ever been this delicious as it tastes in Khichdi! This is a one of the best vegetarian dishes Indian that even kids like to eat. This yummy and solid dish is perfect for the stormy evenings with Beguni (Deep Fried Bringal) and papads!
Ingredients Required For Moong Dal Ka Khichdi:
2 cup of rice
1 cups of peeled moong dal
4 tablespoons of ghee or oil
2 tsp. of cumin seeds
2 bay leaves
2 dried red chili
2 tablespoon of coriander powder & cumin powder
1 tsp. of turmeric
3 tsp. of salt (as per your taste)
2-3 green chili (or as per requirement)
½ tsp. of garam masala
4 cups of Water or as required (Depends on the consistency you want)
Instructions To Cook Moong Dal Ka Khichdi:
Wash rice and lentils well and soak them in water for at least half an hour.
Take out the water and put coriander power, cumin powder, turmeric powder and a little amount of Kashmiri chili powder (optional) in dal chawal and mix them well and leave them aside.
Heat ghee or oil in a pan, add bay leaves, dried red chili and cumin seeds in it.
When these ingredients start to crack, add rice and lentils and fry them on a high flame until the dal chawal start a crack and then add water in it
Mix coriander powder and salt into it and mix it well. Then add 2 1/4 cup water and boil it with a lid.
Cook a little slice on low flame for 10 minutes when the khichdi is cooked and then serve it hotly.
NOTE:

Serving: 4

Prep Time: 10 minutes

Cook Time: 1 hour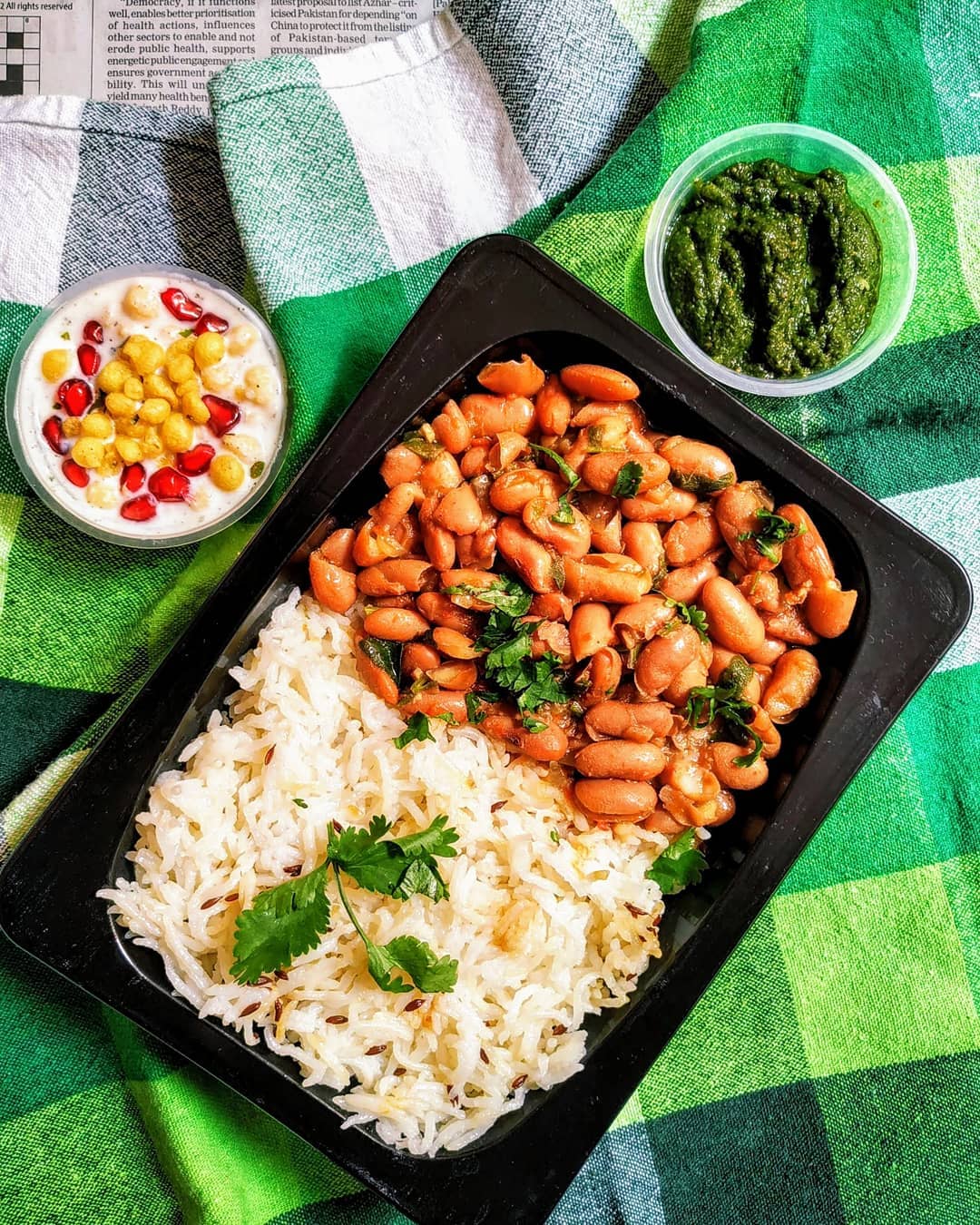 Source:- Instagram
Rajma Chawal
This one is another popular Punjabi recipe that is considered one of the well-known and best vegetarian dishes Indian. Rajma Chawal is also known as Kidney beans in English.
It is cooked in rich sauce and fragrant spices as well as served hot. This is an awesome blend, which is adored everywhere throughout the nation and the world too.
Ingredients Required For Rajma Chawal
1½ cup of Rajma Chawal
1 cup of rice
1 tsp. of ginger
2 large pieces of onions
1 tbsp. of garlic
1 tbsp. of black pepper powder
1 tbsp. cumin powder
1 tbsp. of Coriander Powder
1 stick of cinnamon
2 cloves
2 pieces of green cardamom
2 large pieces of tomatoes
3 tbsps. of mustard oil
2 green chilies (chopped)
1 tbsp. black pepper
1 black cardamom
1 tbsps. of ghee
Instructions To Cook Rajma Chawal
At first, wash the Rajma and keep it soaked in water all night
Wash it again and cook it with 2 cups of water, salt, and turmeric
When the Rajma becomes soft, remove it from the flame and keep it aside
Now cut the onion and keep aside
Then grate tomato by mixing it apart. Then mix ginger and garlic in green chilies and make the spices
Now pour oil in a deep pan, when it gets warmed well, add cinnamon, green cardamom, cloves, black cardamom, in it
When the scent starts coming out, add onion and cook until golden brown
Now add tomatoes and cook for 4-5 minutes on high flame
Pour the ginger-garlic paste and add cumin powder, coriander powder, and black pepper powder
Cook it until the spices begin to appear and the oil starts to flow from the edges of the pan
Now add raisins and one cup of water
Mix well and cook covered for 10 minutes
Then pour ghee you can also add green coriander leaves
Your Rajma is ready
Instructions to Cook Rice
To make rice, put 1 cup of rice in 5 cups of water and put it on the burner.
When the rice begins to occur, remove the water from it
Rice is ready, remove it in a plate and serve it with hot Rajma.
NOTE:

Serving: 2

Prep Time: 8 hours

Cook Time: 20 mins
Recommended Articles :-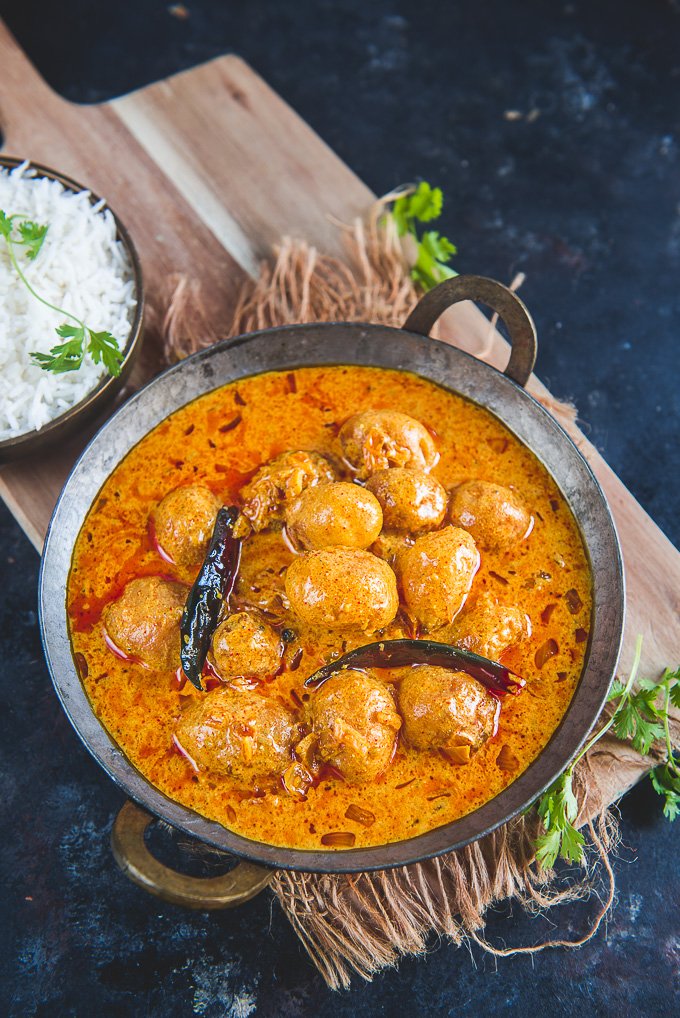 Source:- twitter
Kashmiri Dum Aloo
The dum aloo dish is a customary recipe from Kashmir, which is prepared with little broiled potatoes cooked gradually in a fiery sauce. In spite of the fact that the recipe originates from the territory of Kashmir, it is additionally it is adored throughout India. This is among other best vegetarian dishes Indian.
Ingredients Required For Kashmiri Dum Aloo
500g i.e. 14-15 pieces of Small Potato
1 cup of Curd
2-3 tablespoons of Green Coriander
½ teaspoon of Cumin seeds
1 Tablespoon of Coriander Powder
½ tablespoon of Garam Masala
½ teaspoon of Sugar (optional)
Make powder of 4 small cardamoms, 3 cloves,
¼ teaspoon of Turmeric powder
1 tablespoon of Kashmiri red chili powder
1 teaspoon of Ginger powder
Salt as per taste
½ teaspoon of Sour powder
Instructions To Cook Kashmiri Dum Aloo
At first, wash the potato and slice them into halves and make a hole with the help of a fork in the sliced potatoes.
Soak the sliced potato in salt water for 15-20 minutes and then drain it.
Heat the mustard oil in a non-stick pan and add Kashmiri chilies in it
Then remove from the flame
Grind the Kashmiri Chilies well with some water and make a paste.
Heat a lot of oil in a non-stick pan
Put the potatoes one by one and fry until it turn golden brown on medium flame
Put fennel powder, dried, roasted cumin powder, garam masala powders, salt and red chili paste and mix well.
Heat the mustard oil again and put cloves powder, a quarter cup of water and yogurt mixer in it mix well
Cut off the potato and check whether it is cooked from inside or not. Stir the potatoes with oil and put it in the mixture of yogurt
Let the potatoes cook for 10-15 minutes in gravy
Your Kashmiri Dum aloo is ready to serve
NOTE:

Serving: 4

Prep Time: 10-15 mins

Cook Time: 20-25 mins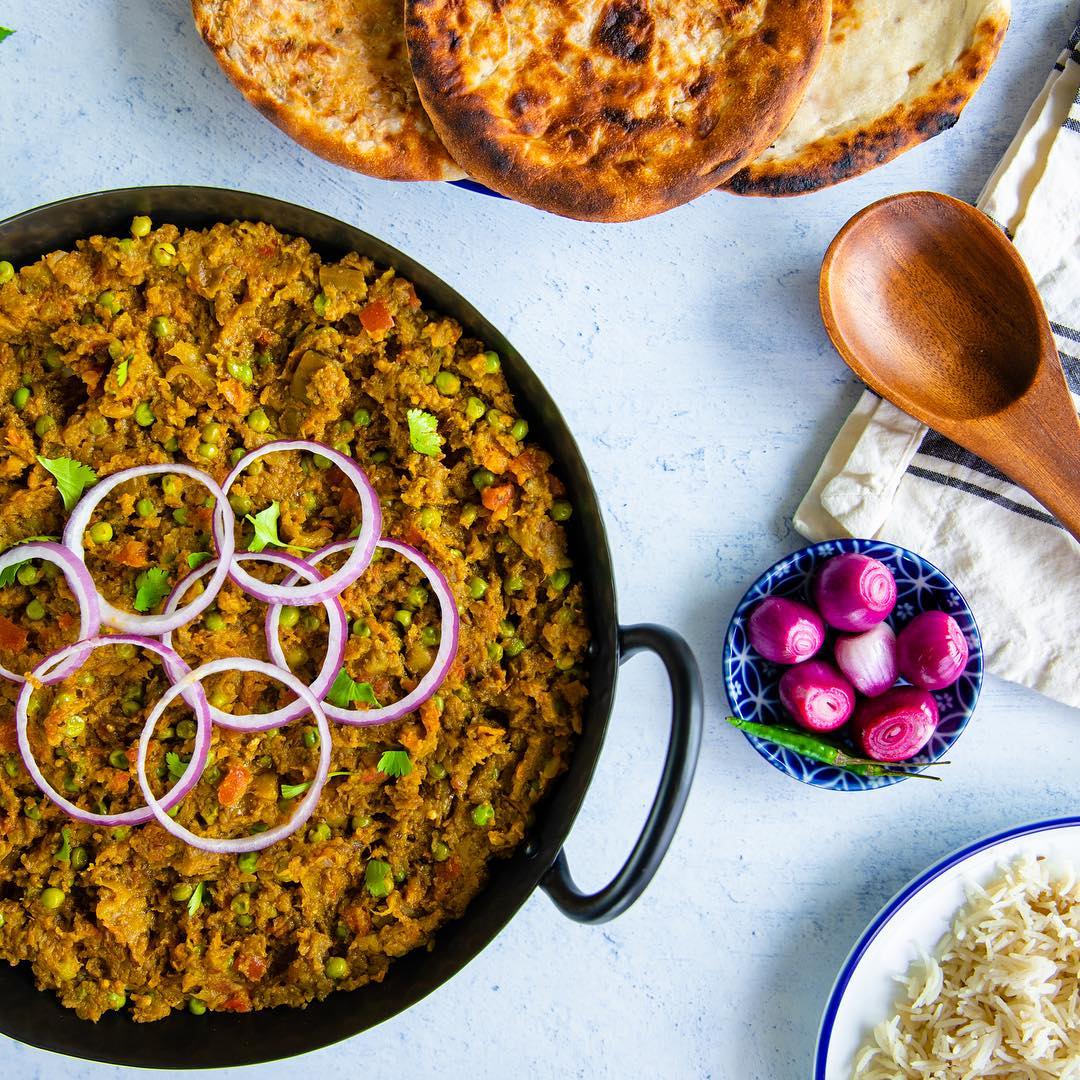 Source:- Instagram
Baingan Bharta
Another well-known and best vegetarian dishes Indian for the veggie lovers is Baingan Bhartha, which is cherished for its extraordinary smoky flavor that it gets due to the utilization of gradually cooked eggplants over the flame. The eggplant is then stripped, squashed and blended with finely chopped potatoes and onions.
Ingredients Required For Baigan Bharta
1 big Round Baingan (Eggplant)
2 pieces of Onion
1 Green chili or as per taste
2 Tablespoons of Mustard Oil
4 cloves of Garlic
½ teaspoon of greased Ginger
2 pieces of Tomato
2 Tablespoons of Coriander Powder
½ tsp. of Turmeric powder or as required
½ tsp. of Garam Masala Powder
½ cup of finely chopped Coriander leaves
Salt as per taste
Instructions To Cook Baigan Bharta
To make Baingan Bharta, at first, apply mustard oil on the eggplant finely and knock it with the help of a knife.
After that, allow the eggplant to roast on the flame of the gas
When the eggplant is roasted completely and becomes soft, take it down and peel it and separate the pulp
Now on the other side, chop tomatoes, onions, and green chilies
Put one pan to heat it
Now add finely chopped onion and roast it over
When the onion becomes golden brown, and then add ginger, finely chopped green chilies and garlic in it
When these are fried completely then add chopped tomatoes to it and add salt and stir until it becomes soft
When the tomato is cooked, add turmeric powder, coriander powder, and red chili powder and roast it for two minutes
Then mash the tomatoes and then put it in the prepared spice paste
Now add garam masala powder and coriander powder in it
Now our Baingan Bharta is ready to eat
NOTE:

Serving: 2

Prep Time: 15 mins

Cook Time: 15 mins
Source:- Twitter
Malai Kofta Recipe
Malai kofta is an enjoyable Indian dish. It is widely appreciated by veggie lovers around the corner of this world. Such best vegetarian dishes Indian are prepared with cottage cheese's soft balls and potatoes, inundated in a creamy and rich sauce. This one is a rich Mughlai recipe that is served on special occasions.
Ingredients Required For Malai Kofta
4 large potatoes (boiled)
250 gm. of Paneer (cottage Cheese)
50 gm. of flour
½ tsp. garlic paste
½ teaspoon of ginger paste
¼ cup cashew nuts
50 gm. cashew paste
½ tsp. of red chili powder
½ tsp. of poppy
½ tbsp. Of mustard seeds
¼ tsp. of green cardamom powder
½ tsp. of Garam Masala Powder
2-3 medium chopped tomatoes
1 green cardamom
Salt as per taste
¼ cup of yogurt
½ tsp. kashoori Methi
150 gm. of fresh cream (for dressing)
1 bunch coriander leaves (optional)
Instructions To Cook Malai Kofta
To make Malai kofta
Leave the boiled potatoes in the fridge for four to six hours.
Doing so will make it easier to make koftas
Now mash paneer, potato and flour
Mixing should not be too soft or too strict
Cut cinnamon and cashew nuts into small pieces
Add half a teaspoon of sugar in it.
Heat the oil in a pan and make a mixture of cheese with a mixture of dry fruits
Fry the tofu. If they break, then remove them and add dry flour, then fry them again
To Make Gravy
Fry the onion, ginger-garlic paste and tomato paste
Then add cashew paste in it
Mix well into two tablespoons hot milk paste
Insert all the dried spices except the kasoori Methi
Fry from the edge of the mixer until it lubricates
Then add half a cup of water in it
When the gravy thickens then add cream, a tablespoon of sugar and kasoori Methi
Leave gravy on a light flame and cook it for some times
When the gravy starts boiling then put the koftas in it and serve hot with rice or roti.
NOTE:

Serving: 2

Prep Time: 10 mins

Cook Time: 1 hour 30 mins