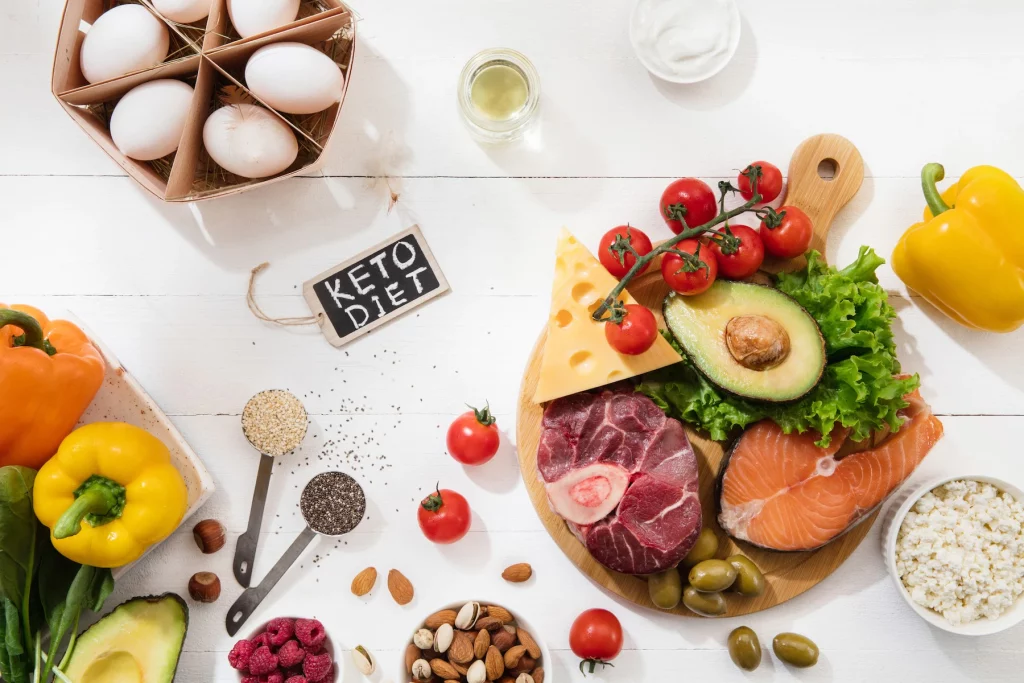 Ketogenic cuisine is currently all the rage, appearing on everything from restaurant menus to new goods on shop shelves. The keto diet emphasizes foods that are rich in fat, low in carbs, low in sugar, and moderate in protein.
If you're considering trying this diet, you might be curious about what plant-based foods are keto-friendly and whether it's possible to follow a vegan ketogenic diet. There are certainly some vegan foods that should be avoided or consumed in moderation, such as starchy root vegetables, beans, and berries.
Equally, though, are also many healthy, satiating vegan options that you can eat when experimenting with the keto diet, such as leafy greens, cauliflower, almond butter, and tofu. Tofu is a good keto option, says PlanKetogenic.pro.
We've combed the web and added our own experience to bring you the greatest vegan keto recipes that you can try out. Enjoy!
Zucchini Noodles With Avocado Sauce
Ingredients:
✔ 1 zucchini
✔ 1 avocado
✔ 12 sliced cherry tomatoes
✔ 2 tbsp lemon juice
✔ 4 tbsp pine nuts
✔ 1/3 cup water
✔ 1 ¼ cup basil
Preparation:
Use a spiralizer or a peeler to make the zucchini noodles.

Use a blender to combine the remaining ingredients.

Combine the noodles, avocado sauce, and cherry tomatoes in a mixing dish.

Although fresh is preferable, you may keep these zucchini noodles and avocado sauce for one to two days in the refrigerator.

Other vegetables, such as carrots, beets, butternut squash, and cabbage can also be spiralized.

You can substitute other nuts or even pine nuts for seeds.
Nutrition (per half serving):
| | |
| --- | --- |
| Calories | 313 |
| Fat | 27g |
| Carbs | 19g |
| Protein | 7g |
Vegan Thai Soup
Ingredients:
✔ 3 sliced mushrooms
✔ 2 cloves of chopped garlic
✔ ½ red onion
✔ ½ red bell pepper
✔ Fresh cilantro (chopped)
✔ Lime juice
✔ 1 tbsp soy sauce
✔ 10 oz. tofu
✔ 1 tbsp coconut or brown sugar
✔ 14 ounces coconut milk
✔ 2 cups vegetable broth
✔ ½ chopped Thai chili
✔ ½ inch ginger root (chopped)
Preparation:
In a big saucepan, combine the broth, coconut milk, sugar, and all the vegetables (onion, red bell pepper, mushrooms, garlic, ginger, and Thai chili).

Bring it to a boil, then simmer it for roughly 5 minutes at medium heat. 3. Include the tofu and simmer for a further 5 minutes.

After taking the dish off the heat, mix in the tamari, lime juice, and fresh cilantro. Stir, then serve.

The soup can be stored in the refrigerator for up to 5 days in a sealed container. It can also be frozen.
Nutrition (quarter of the serving):
| | |
| --- | --- |
| Calories | 339 |
| Fat | 28g |
| Carbs | 16g |
| Protein | 15g |
Cauliflower Fried Rice
Ingredients:
✔ ½ tsp oil
✔ ¼ cup chopped onions
✔ 4 cloves chopped garlic
✔ 1 tbsp minced ginger
✔ 1 cup peas and carrots
✔ Scallions
✔ Black pepper
✔ ¼ tsp salt
✔ 1 tsp sesame oil
✔ 2 tsp Asian chili sauce
✔ 1 tbsp soy sauce
✔ ½ cup chopped bell pepper
✔ ½ medium cauliflower, shredded
✔ ¼ broccoli (shredded)
Preparation:
Over medium heat, cook onion and garlic until golden in oil (or 1 tablespoon broth). 2. Add a pinch of salt and ginger, bell pepper, vegetables, peas, and carrots.

Stir, then cover and cook for three to four minutes.

Add the sauces, salt, and pepper, along with the shredded cauliflower or cauliflower and broccoli.

Cook for 5 minutes with a cover on.

Thoroughly mix until the vegetables resemble grains of rice, cover again, and allow to steam for an additional two minutes.

The cauliflower should be a little more than al dente but still slightly crunchy.

Taste and adjust the flavor and salt. Mix again. Serve alone, with stir-fry, or with baked tofu.

When serving the dish as is, garnish with some soy sauce or Asian chili sauce. 10. For variety, serve the cauliflower with some roasted nuts.

Coconut aminos can be used instead of soy if you want.
Nutrition (per serving):
| | |
| --- | --- |
| Calories | 106 |
| Fat | 27g |
| Carbs | 17g |
| Protein | 5g |
Crispy Cauliflower Stir Fry
Ingredients:
✔ 12 ounces tofu
✔ 1 ½ tbsp. creamy peanut butter
✔ 1 tbsp toasted sesame oil + 1 tbsp for sauce
✔ 2 tbsp tamari
✔ 2 tbsp maple syrup
✔ 2 tbsp chili garlic sauce
✔ 1 small head of cauliflower
✔ 2 cloves minced garlic
✔ 1 cup thinly sliced green onion, red pepper, or broccoli
✔ 1 dash of sesame oil for seasoning
✔ 1 dash tamari for seasoning, or soy sauce
Preparation:
Set oven to 400 degrees Fahrenheit (204 C).

Use parchment paper to cover a baking sheet.

Trim your tofu block if it is bigger than 12 ounces.

Then press your tofu for 15-20 minutes by using a tofu press or by wrapping it multiple times in an absorbent towel and setting a heavy object on top.

After pressing, cut the tofu into roughly ½ -inch cubes and spread them out in a single layer on the baking sheet coated with parchment paper.

To ensure that the cubes crisp up, make sure they are not touching. For the tofu to dry/firm, bake for 20–25 minutes.

The tofu should be chewy at 20 minutes and crispier at 25 minutes.

Make the sauce in the meantime by combining the peanut butter, sesame oil, tamari, maple syrup, and chili garlic sauce in a medium mixing bowl.

Taste the dish and make any necessary flavor adjustments by adding extra tamari for saltiness, chili garlic sauce for spice, or maple syrup for sweetness.

Coat the baked tofu with the peanut sauce. Allow the tofu to marinate for 10 to 15 minutes to flavor it fully.

In the interim, make cauliflower rice using a big grater or a food processor's grater attachment. Place aside.

If you haven't previously, mince the garlic. Wash and slice any vegetables you want to use in the recipe.

Set a sizable skillet with a rim over medium heat.

Add sesame oil (1 tablespoon as directed in the recipe; modify if you're changing the serving size), cauliflower rice, and garlic. Once it's all hot, add tamari.

For about 5-8 minutes, swirl and sauté, occasionally stirring, until slightly browned and soft.

If you're using any optional vegetables in your dish, sauté them immediately in a little sesame oil and tamari until just soft.

Add the marinated tofu and most of the sauce to the hot pan (reserving a few spoonfuls for serving). Heat for three minutes or more, often tossing, until browned.

It's natural for the sauce to caramelize and possibly somewhat stick to the pan; this enhances the flavor of the food.

Use a spatula to stir, scraping out any caramelized residue. Then add the tofu to the plate with the cauliflower rice.

If any sauce is left over, serve with it.

The leftovers reheat easily and can be stored covered in the fridge for a couple of days. This dish is not suitable for freezing.
Nutrition (per serving):
| | |
| --- | --- |
| Calories | 525 |
| Fat | 36g |
| Carbs | 29g |
| Protein | 32g |
Vegan Oatmeal
Ingredients:
✔ 15g walnuts
✔ 15g pecans
✔ 10g sunflower seeds
✔ 4g coconut flakes
✔ 250ml / 1 cup almond milk (unsweetened)
✔ ½ tsp maple flavoring
✔ ¼ tsp cinnamon
✔ ¼ tsp stevia powder
✔ 1 tbsp chia seeds
Preparation:
Place the sunflower seeds, walnuts, and pecans in a food processor and pulse a few times to break them up.

Combine all of the ingredients in a big pot. Stirring frequently, simmer on low heat for 20 to 30 minutes or until the chia seeds have soaked up most of the liquid.

Don't forget to stir since the roots may stick to the bottom of the saucepan.

After the oatmeal has thickened, remove it from the fire and immediately serve.

You can also allow it to cool and keep it in the refrigerator for the following morning's breakfast.

Top with any additional desired toppings and fresh fruit. The ideal fruit in this case would be berries, like strawberries or blueberries, as they are very famous for being keto and scrumptious at the same time.
Nutrition (per serving):
| | |
| --- | --- |
| Calories | 178 |
| Fat | 5g |
| Carbs | 28g |
| Protein | 6g |
Broccoli Rice with Scallops and Shrimp
Ingredients:
✔ Finely chopped broccoli (approx. 2 heads of broccoli)
✔ ¼ tbsp. avocado oil
✔ ¼ tbsp. chopped garlic
✔ ¼ tbsp. coconut aminos
✔ ¼ tsp toasted sesame oil
✔ 1 tbsp. almond oil
✔ 1 tbsp chopped cilantro
✔ ½ bulbs of chopped scallions
✔ ¼ lime juice
✔ ¼ grated ginger
✔ Salt and pepper to taste
✔ 2 fresh scallops
✔ 9-12 medium sized peeled shrimp
✔ Pinch of coarse salt and black pepper
Preparation:
Add 1 tbsp of almond oil to a skillet that has been preheated.

Riced broccoli and finely chopped garlic are sautéed for one minute.

Season the riced broccoli with coarse salt, toasted sesame oil, and coconut aminos. Sauté for a further two minutes.

Broccoli must be cooked until it is brilliant green, crunchy, and not mushy.

Turn off the heat and grate about 12 teaspoons of frozen ginger over the warm broccoli rice.

Add lime juice as a seasoning.

Add sliced almonds, cilantro, and scallions as a garnish. Extra lime wedges should be served on the side.

Pat scallops and shrimp dry if serving with them.

Add salt and black pepper to taste.

Scallops are pan-fried in 2 tbsp ghee for roughly 3 minutes on each side at medium heat. 11. Place aside and cover to keep warm.

Shrimp should be pan-fried in the same skillet with the remaining oil until they curl and turn pink (about 2-3 mins).

Over the broccoli fried rice, dish up the scallops and shrimp.
Nutrition (per serving):
| | |
| --- | --- |
| Calories | 87 |
| Fat | 5g |
| Carbs | 7g |
| Protein | 2g |
Zucchini Bake
Ingredients:
For pesto sauce
✔ 2 cups of fresh basil leaves
✔ ¼ cup raw pumpkin seeds or pine nuts
✔ 1 garlic clove peeled
✔ 2 tbsp lemon juice (about 1 large lemon)
✔ 3 tbsp olive oil
✔ ¼ tsp pink sea salt
✔ ⅛ tsp black pepper
✔ Vegetables
✔ 1 tbsp olive oil
✔ 3 medium zucchini thinly sliced
✔ 8 medium Roma tomatoes thinly sliced
✔ 4 small red onions thinly sliced
Look for Roma tomatoes and zucchini that are the same width. Search for the smallest red
onions as well. Vegetables should be the same size so that they cook evenly. Slice the vegetables swiftly on a mandolin hand. Your setup time is greatly decreased by using this tool. Slice the tomatoes, red onions, and zucchini into 1/8″ to 4″ thick slices. The mandolin is incredibly sharp, so use caution when handling it.
Preparation:
You should make pesto sauce first.

In a blender or food processor, combine the fresh basil leaves, pumpkin seeds, garlic, lemon juice, extra virgin olive oil, water, salt, and pepper.

The sauce should be smooth before being kept aside for subsequent use. 4. Set the oven's temperature to 350°F.

Lightly cover the bottom of a cast iron skillet with oil.

After that, lay the cut veggies in the pan in the following order: tomato, zucchini, red onion, and zucchini. Place them, first, in a larger outside circle and then a smaller inner circle. Fill in the central hole last. Keep going in this order up till you run out of vegetables.

After drizzling the vegan pesto sauce over the veggies, use a silicone brush to coat every vegetable in the pan with the sauce.

Place a sheet of parchment paper that has not been bleached on top of the vegetables and bake for 30-35 minutes or until the vegetables are all soft.

For 2 to 3 days, you can keep the leftover roasted veggies in the refrigerator in an airtight container. There are problems with freezing this dish; when tomatoes and zucchini are frozen and thawed, they become quite mushy.
Nutrition (per serving):
| | |
| --- | --- |
| Calories | 127 |
| Fat | 9g |
| Carbs | 11g |
| Protein | 3g |
Conclusion
Always remember that eating a plant-based diet is one of the best strategies to lose weight and prevent obesity. It keeps you fit, and helps achieve your weight loss goals in a quick manner.
Additionally, there is growing scientific proof that a wholesome plant-based diet is good for your health. There have been multiple studies in the past that reveal that vegans have reduced diabetes and heart disease rates, and may even live longer!
Consequently, a vegan diet allows you to live a healthier lifestyle while allowing farm animals to live their natural lives. The bonus of having a variety of scrumptious recipes to go with this makes it fun and rewarding at the same time!