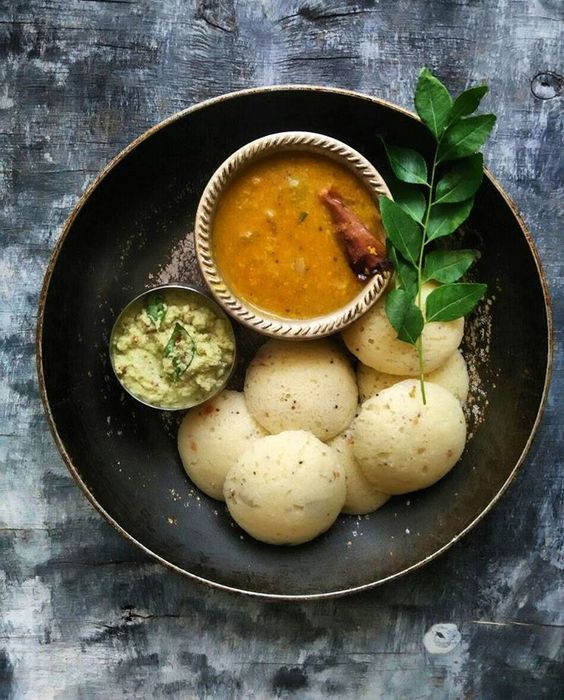 On hearing the name of idli sambar, mouth water comes. Idlis made with urad dal, rice and Rava are liked by the people. Idli is a good choice of high nutrition for people at breakfast. Also, do you know idli is one of the best miles to lose weight while being delicious. You can lose weight fast by including rice idli in your daily diet. So, let's see some recipes of Idli Sambhar for Weight Loss. See this below…
On hearing the name of idli sambar, my mouth starts watering. Idlis made with urad dal, rice and Rava are liked by the people. Idli is a good choice of high nutrition for people at breakfast. Also, do you know idli is one of the best meals to lose weight while being delicious? You can lose weight fast by including rice idli in your daily diet. But to use Idli Sambhar for weight loss you need to know the recipe first. That's why today, in this article below we have come with the idli sambar recipe…
Recipes Of Idli Sambhar For Weight Loss:
Idli does not have oil content due to the non-frying, so calorie intake is relatively low. At the same time, idli is made of rice and rice has a high amount of carbs, so you can increase the quantity of urad dal or Rava compared to rice in idli. Protein and fiber found in idli keep your stomach full for longer. Because of which you do not feel hungry again and again. Along with this, fiber is also very useful for good digestion. So, see some recipes of Idli Sambhar for Weight Loss below…
Moong Dal Idli:
Moong Dal Idli which is an instant hit for breakfast. This idli made with moong dal looks very tasty, after eating it you will not miss plain idli at all. In this recipe, green peeled moong dal is used, which is full of protein, fiber, and many other important nutrients. Chana dal, carrots, and other healthy foods have also been added to make it even healthier. This is one of the recipes of Idli Sambhar for Weight Loss.
Ingredients:
Moong Dal – 1 cup
Grated Carrot – 1 tbsp
Peas – 1 tablespoon
Chana Dal – 1 tablespoon
Curd – 1/2 cup
Green Chilies – 2
Ginger-Garlic Paste – 1 ½ teaspoon
Curry Leaves – 3-4
Salt To Taste
Method:
Soak moong dal and chana dal in water for at least 4 hours. Take out the extra water and grind the mixer-grinder dal and make a paste.
Take out the paste in a bowl, add curd and salt. Keep it aside for 1 hour.
Meanwhile, in a pan, add ginger-garlic paste, green chilies, curry leaves, and carrots and peas. Add half a teaspoon of salt.
Add spice tempering to moong dal batter, and as usual, make idli in idli maker.
This nutritious idli is so delicious that you will want to eat it every day. Eat good, tasty food every morning; This is the best way to lose weight.
Rava Idli:
These are all famous and healthy snacks, but sometimes some women do not know the right way to make it, due to which they are unable to make these food items even though they want. If you like eating idli, then we are telling you, a recipe for making Rava idli. It is very easy to make. For breakfast or dinner, you can make Rava idli and feed it to your family. This is one of the recipes of Idli Sambhar for Weight Loss.
Ingredients:
Rava (semolina) – 250 grams
Curd – 300 grams
Water – 50 grams
Read also- You can also learn the recipe for making "Children's Mango Choco Moose"
Salt – as per taste
Eating Soda – 3/4 tsp
Oil – 1 tbsp (to grease the idli stand)
Method:
Beat the curd first. Put semolina in a pot and add curd to it and mix well. Add water and salt and beat it. Keep this mixture aside for 20 minutes. When the time is over, add soda to this mixture and mix well. Keep in mind that the mixture should not be too thick and too thin.
Put 2 small glasses of water in the cooker and keep it on the gas and let it heat up. Grease the idli stand with a little oil. With the help of a spoon, fill the mixture in each idli meal.
Place the idli stand in the cooker and remove the whistle from the cooker's lid and close the cooker.
Idli cooks in 7 to 10 minutes. Open the lid of the cooker to see if the idli is well cooked. If you want, try putting a knife inside the idli. If it does not stick to the mixture then the idli is formed. Remove the idli stand from the cooker. After cooling, take out the idli from the stand with a knife and keep it on a plate.
Now feed your family and friends Tasty and Healthy Rava Idli in the morning breakfast or dinner. You can also eat it with tomato sauce or green chili sauce.
Recommended Articles :-
Masala Rava Idli:
You must have eaten idli many times. But do you know that plain and plain idli can be spiced very easily by adding chili, curry leaves, and mustard seeds. You can also eat idli for breakfast or lunch. This is one of the recipes of Idli Sambhar for Weight Loss.
Ingredients:
Semolina – 3 cups
Oil – 2 tablespoons
Dried Red Chilies – 2
Curry Leaves – 6-7
Rye – 1 tsp
Curd – 1 cup
Method:
Heat the oil in a pan, add curry leaves, chilies, and mustard seeds. After this, add semolina and fry it on a low flame.
After the Suji is roasted, keep it to cool down. Then add curd and whisk well.
Keep aside for one hour and leave.
Then put it in the idli maker and cook it for six to nine minutes in steam.
If idli size is big, then keep them in steam for 15 to 20 minutes.
Rice Idli:
Idli, popularly known as a Breakfast dish, is a favorite of all. It must be included in your breakfast list once a week. By now you must have been making semolina idli at home, but to change the test, definitely try rice idli at home. It is not that you can eat rice idli only for breakfast, you can eat it for dinner or lunch too. This is one of the recipes of Idli Sambhar for Weight Loss.
Ingredients:
Rice – 1 ½ cup
Urad Dal – One cup (peeled)
Salt – 2 tsp
Method:
Soak rice and lentils in water and keep them for five to six hours.
Now grind the lentils and make a fine paste and grind the rice lightly.
Coarse equivalent to sand. Mix both the mixture and add salt to it.
Dilute the paste by adding a little water. The solution should not be too thick.
Now cover it and leave it in a warm place for the whole night.
Steam the mixture by pouring the mixture into the molds and serve hot.
Oats Idli:
Although idli is a popular dish in South India, it is also very popular elsewhere. It is very light to eat and in addition to breakfast from the morning, idli is also eaten in lunch or dinner. Nowadays, Idli is being made by giving different twists. This is one of the recipes of Idli Sambhar for Weight Loss.
Ingredients:
Oats – 2 cups
Curd – 1/2 cup
Mustard Seeds – 1 tsp
Urad Dal – 1 tsp
Gram Lentils – 1/2 tsp
Oil – 1/2 tsp
Green Chilies – 2 tsp (finely chopped)
Carrots – 1 cup (grated)
Coriander – 2 tsp (finely chopped)
Turmeric Powder – 1/2 tsp
Salt – 2 tsp
Method:
Fry the oats in a pan till it becomes light brown. After this, make oats powder by putting it in the mixer.
In a pan, fry the oil, mustard seeds (let it sizzle), urad dal and chana dal till they turn brown.
Now add chopped coriander, green chilies, grated carrots, and turmeric and fry for a minute.
Mix this prepared mixture with curd in oats powder. Do not use water to make the mixture.
Now your idli mixture is ready.
Grease the mold of idli with a little oil, and put idli mixture in each mold.
After steaming the idlis for 7.15 minutes, take them out in a plate and serve with onion chutney.