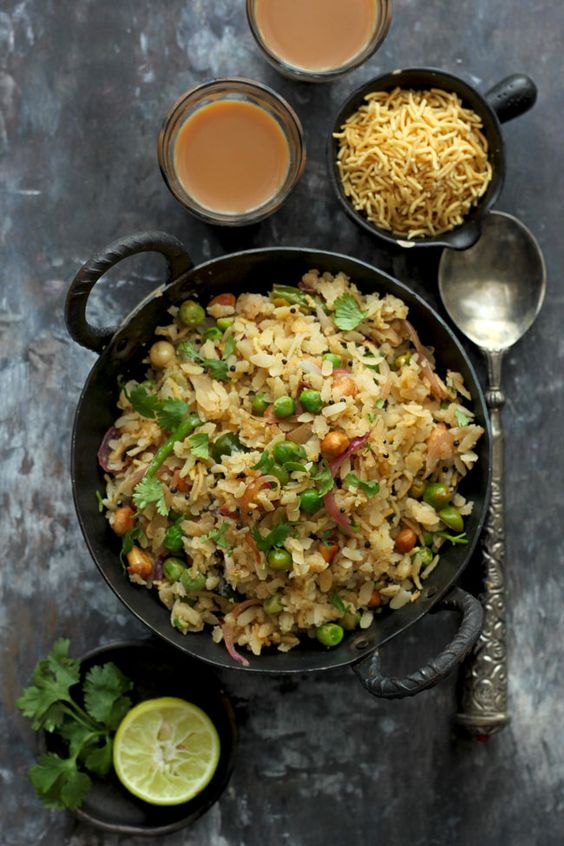 Poha is not only beneficial for your health but also keeps your weight under control as it contains a high amount of fiber which keeps your stomach full for a long time and also controls hunger. In today's article, I am going to give you an account on the nutrition level and calories in poha.
In every 100gm Poha contains:-
| | |
| --- | --- |
| Nutritional Facts:- | Nutritional Values: |
| Calories: | 110 |
| Fat: | 2.87gm/23% |
| Carbs: | 18.8gm/68% |
| Protein: | 2.34gm/8% |
| Cholesterol: | 0mg |
| Sodium: | 201 mg |
| Dietary Fiber: | 0.9 gm |
| Sugars: | 0.5 gm |
| Protein: | 2.34 gm |
| Calcium: | 15 mg |
| Iron: | 1.06 mg |
| Potassium: | 117 mg |
| Vitamin A: | 6 mcg |
| Vitamin C: | 6.4 mg |
Table of Contents:
Poha contains a very small amount of calories. Therefore, you can lose weight by including it in breakfast. A bowl of poha contains about 206 calories. If you want to lose weight, do not include potatoes and peanuts in making poha. Add onion, green chilies, tomatoes, and other vegetables instead. So, as you now know how much there are calories in poha let's now know in detail about the benefits of poha. Here we go with the details in this article below…
Nutrition And Benefits Of Poha:
Here the nutrition value of poha is explained. See this below.
Healthy Carbohydrate:
Poha contains healthy carbohydrates that provide a sufficient amount of energy to the body. Poha contains 76.9 percent carbohydrate and 23 percent fat which helps in controlling your weight. If you eat poha for breakfast, extra fat will not be gathered in your body.
Improves Digestion:
Poha is easily digested and also keeps your digestion better, which also keeps your weight under control. It also reduces the problem of blotting and keeps the stomach full for a long time.
High In Fiber:
Due to the fiber, Poha keeps your appetite under control, because consuming it keeps your stomach full for a long time. Apart from this, it also helps in burning extra body fat.
Regulates Blood Sugar:
Poha contains high amounts of fiber and iron, which prevents sugar from rising in your bloodstream and also controls your body's sugar levels. It also keeps your weight under control.
Calories In Poha:
Poha is low in calories thus reducing the risk of weight gain. Poha contains just 250 calories and also contains vitamins, minerals, and antioxidants that help burn your fat.
Along with exercise and diet, the consumption of poha can also be a better option to lose weight as it contains fewer calories.
How Poha Helps In Weight Loss?
Due to excess weight gain, many health problems occur such as obesity, heart disease, or diabetes. In such a situation, people consume exercise, diet plans, dieting, yoga, and low-fat foods to lose weight. Even after all these efforts, people fail to lose weight.
In such a situation, the consumption of Poha can prove to be a better option as it contains high amounts of carbohydrates, protein, fiber, vitamins, and iron. All these nutrients not only reduce weight but also provide many health benefits. If you are thinking about losing weight, do not include potatoes in poha as it increases the intake of calories.
FAQ:
Q. Is POHA Healthy For Weight Loss?
A. Poha is low in calories. It has about 76.9% of sugars and 23% fat, which makes it one of the best decisions for weight reduction.
Q. Is POHA Healthier Than Rice?
A. Poha is the most advantageous choice; it additionally makes for an incredible bite. Poha or rice pieces are anything but difficult to make as well as give enough vitality, iron, starches, and have a low-gluten level.
Q. How Many Calories Are In POHA UPMA?
A. One serving of Power Poha gives 199 calories. Out of which sugars involve 140 calories, proteins represent 17 calories and remaining calories originate from fat which is 43 calories.
Q. Is POHA Good For Health?
A. Poha is a healthy feast. It is a decent wellspring of starches, stuffed with iron, wealthy in fiber, a decent wellspring of cancer prevention agents, and fundamental nutrients and is without gluten.
Q. Do POHA Increase Weight?
A. No, Poha does not increase weight. It contains around 75% of sugars and 25% fat. In addition, it has abundant dietary filaments that settle on it an ideal decision for weight watchers.
Q. Is POHA Better Than Oats?
A. Poha can be eaten as a nibble as well however it basically is a decent breakfast alternative notwithstanding oats, quinoa, and other entire grains flooding the Indian market and being advanced as 'sound and nutritious'.
Q. Is POHA Allowed In Keto?
A. Yes, Poha is allowed in the Keto diet. Poha is produced using leveled and got dried out rice, which individuals on the keto diet will in general miss a great deal.
Q. Can I Eat POHA Daily?
A. Indeed, Poha can be eaten every day. Those on a careful nutritional plan can even now appreciate a tasty breakfast without missing out on the advantages.
Q. Can We Eat POHA At Night For Weight Loss?
A. Poha is additionally light on the stomach and can be handily processed. Along these lines, it can either be had as the main morning feast or as a light night supper. Poha will never cause swelling and will likewise keep you full for more.
Recommended Articles:-