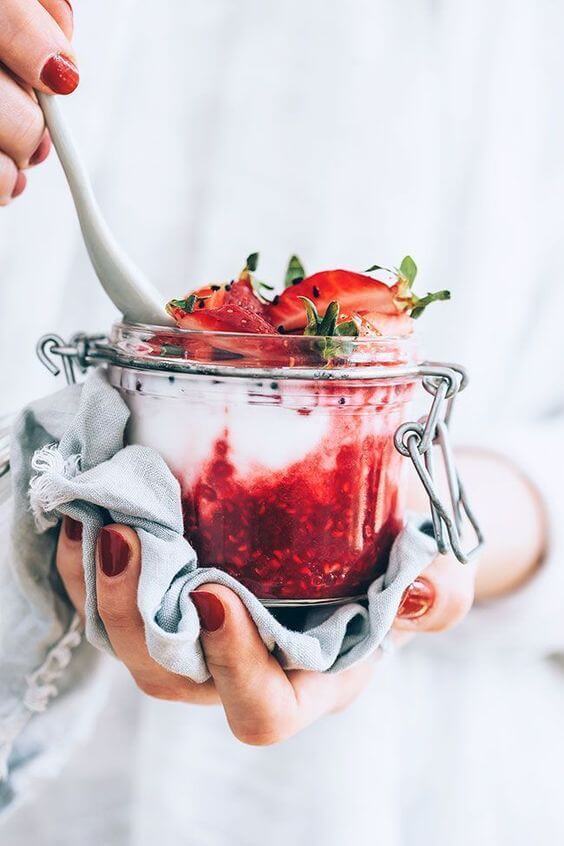 A low calorie diet is the best option to stay healthy. It is very difficult to include food as per your taste and light snacks in regular meals and to be aware of the right ratio of calories you need. Some healthy people may need to think about incorporating high-calorie foods into their food for a uniform taste, but they should definitely be included in their diet. Here are some healthy snacks for evening, which you should include in your regular meals in an interesting way.
Oats Dosa:
Trying to avoid the intake of rice but it is difficult to leave the dosa, so do not get angry. Mix equal amounts of oats and Rava (sooji) and soak them in sour curd for about 30 minutes. Add salt, thick ground black pepper, chopped green chili, and chopped coriander leaves. Mix them all well and make healthy and tasty dosa. If you want to eat low-calorie food, then use non-stick pan (pan) to make it and do not use oil. This is one of the healthy snacks for evening.
Corn Bhel:
This is for people who like chaat and bhel, who believe that chaat is actually very healthy. Along with this, low calorie chutney and curd taste very good. If you do not want to eat fried sev, papdi or fried tikkis in your chaat, then corn bhel is a great option for this. You must have always tasted boiled corn (maize) with butter (butter), but now the time has come for bhel to be prepared in a short time. Add chopped onion (chopped waxed), tomatoes, coriander leaves and cucumber to the boiled corn. You can add chaat masala, salt and any type of green vegetables as per your choice. Mix all these things and prepare a healthy breakfast for yourself. This is one of the healthy snacks for evening.
Millet Porridge:
By my estimation, you are a person who wants to quit the habit of eating tea and samosa at 4 in the evening. Do you need to eat something that will save you from hunger in the long run between lunch and late dinner? Do you feel a decrease in your energy as the sun is hiding or it is evening? So millet porridge is a good option to keep your energy level strong. It is very easy to make. Put 3 tablespoons of millet or ragi flour in hot water and keep it on the heat. After some time this mixture will become thick and shiny. Add one cup of milk and one small spoon of honey to this mixture. This is one of the healthy snacks for evening.
Melon And Roasted Nuts Salad:
Come find out the reasons why you are not able to cut your diet plan, hey easy you love sweet and fried foods more. You like to eat salad but the carelessness of cutting prevents you from eating salad. So here is a salad that you will not have to cut too much and it will fulfill your desire for sweet and crunchy pan, besides this you will also like it very much. For this, cut melon, watermelon or papaya into big pieces. You can dry roast your favorite dry fruits like almonds, pistachios, walnuts or cashews in a pan. Merge the two into one. You can also add salt or chaat masala if you want. Now you are ready to fight your hunger with a luxurious and healthy salad. This is one of the healthy snacks for evening.
Fruit Flavor Yogurt:
We all know what it is like to have chocolate and dessert after dinner. Cheesecake and ice cream are being talked about here, which almost everyone loves very much. Sometimes sweets become part of our social programs. There are some high calorie sweets for you here but they are very helpful in increasing obesity. You can make curd with fruit flavor at home. Shop-bought yogurt is good but very creamy milk is used to make it, which is harmful to health. So add fruit pulp to curd and use it as a dessert after eating. This is one of the healthy snacks for evening.
Roasted Methi Muthiya:
It is good to eat traditional snacks and Farsan (Namkeen) but there is also a concern and that the effect of intake of these foods will soon start showing as obesity on your waist and hips. This is a proven recipe for being healthy (fat). Start making and eating fenugreek muthiya regularly. Add gram flour and wheat flour, garam masala, turmeric powder, ginger and green chili paste and lemon juice to the chopped fenugreek leaves. Instead of frying, sprinkle a spoonful of oil on it and bake it at 200 ° C for about 7 to 8 minutes. Light frying them is even better. This is one of the healthy snacks for evening.
More Recommended Articles :-
Soy Veggie Wrap:
A lot of people like rolls, wraps, and frankies, but many types of rolls and Frankies are just for looks. Mostly flour-made parathas use harmful tikka, eggs, meat, cheese and sauce to make rolls. This roll is made by frying in oil. Sounds good but it is an alarm (alarm bell) for your health. The oil used in making soy veggie wraps is negligible and tastes delicious. It also fulfills your desire to eat your favorite wrap. To make it, bread or parathas are wrapped with green chutney and boiled vegetables. Include it in your breakfast and soothe your snack appetite. This is one of the healthy snacks for evening.
Rava Idli:
Steam baked idli is a good health enhancer and a good snack for breakfast. But you will not love the soft taste of idli and the coconut chutney used with it also has very high calories. In its place there is a very tasty and healthy option. Try making Rava Idli. Dip the roasted and grated carrots, broken cashews, chopped green chilies and coriander leaves in the sour curd. After about 15 minutes, add in or fruit salt and let the idli cook in the steam. Serve it with tomato or coriander chutney, use mint sauce along with it to make this breakfast more healthy. This is one of the healthy snacks for evening.
Rajma Dhokla:
Do you like to eat Dhokla? To make your dhokla spectacular, make it with Rajma. Clean the kidney beans and soak them in water overnight. Grind the spinach, green coriander leaves, ginger and green chilies in a mixer. Add salt, sugar and fruit salt, fill it in lightly greased plates or regular dhokla utensils. Low calorie cheese or cottage cheese would be very suitable to give it a great flavor. It is an ideal snack for patients with diabetes. This is one of the healthy snacks for evening.
Mixed Sprouts Chaat:
Don't like cooking or spending time in the kitchen? So here is a dish that you can prepare in a moment without lighting a fire. Sprouts (fruits and grains) are considered to be one of the world's most healthy foods. Coral, soaked gram, sprouted grains (gram or moong) and green or brown grams are rich in vitamins, minerals, protein, and immunity, they can be eaten without cooking. After soaking these grains (gram or moong) for 4 hours in the water, tie them in a soft cloth and keep them overnight. When they start sprouting, add chopped tomatoes, coriander and green chilies to it. Add salt and chaat masala to it, now your healthy breakfast is ready. This is one of the healthy snacks for evening.